Lesson Series: "0 To 60, An Introduction to Alternate Picking" - Lesson 100
(Difference between revisions)
---
Current revision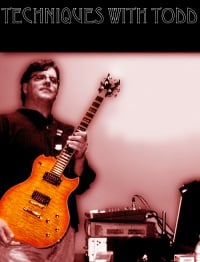 LESSON #100 - Racer X Style Part II
Lesson Series by Todd Simpson

Let's warm up and get going!

FINGER YOGA!
Let's do our usual Finger Yoga stretches. Here is a link to the video for references.

LESSON 100 (AKA "THE TORTURE CHAMBER OF LIMITLESS DEATH")
Special thanks goes out to Ben Higgins for letting use his RACER X collab as our backing!

Here is a link to the RACER X COLLAB post in the forum.

And here is the Backing from it. Ben's backing here is truly KILLER!

Let's have a look at LICK #1. Watch the video and notice where it fits in. Here is the tablature. Each position is played four times.
TRIPLE/DOUBLE DEATH
This next lick blends our fav "Double and Triple" styles of picking in the same lick. Some notes are triple picked (three strokes per note) and some are double picked (two strokes per note).
PAUL GILBERT DEATH

This lick is one we worked on last week in preparation for today. Hopefully, it's all smooth sailing from here!
TAPPING DEATH
Let's add some tapping/hammering!
Here are the basic positions. I'm just mucking about with these mostly. So let's wing it!

CONGRATS! YOU ARE NOW A METAL GOD!

Seriously guys, thanks so much for making this lesson series RAWK! It's nothing without you guys and you guys are AWESOME!
PRACTICE! Todd