Lesson Series: "0 To 60, An Introduction to Alternate Picking" - Lesson 105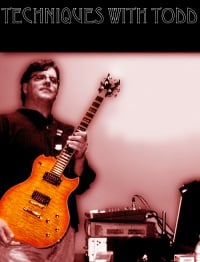 LESSON #105 - (Lesson #5 Redux) Advanced right hand - left hand synchronization Part II
Lesson Series by Todd Simpson
HERE IS THE CUSTOM OVERLOUT TH1 TRIODE PATCH FOR TODAY

Let's warm up and get going!

FINGER YOGA!
Let's do our usual Finger Yoga stretches. Here is a link to the video for references.

Let's expand on our STREEEEETTCH and Alternate Picking work a bit.
Here we go!
PART A - DIFFERENT SHAPES DIFFERENT STRINGS
In our original LESSON 5 we added "Back and Forth" on top of our Alternate Picking. Now that we have been working on the stretch, let's take idea to the next level.

WARNING: THIS IS HARD TO PLAY!


Let's:

Play this up and down the neck (Don't play to pain)

Double Pick it.

Try it on different strings.

PART B - LEGATO STREEEEEEEETTTCCCHHHH

Let's get some practice doing a crazy legato stretch lick to build up some muscle memory for our "Boss Level" lick.
(Let's try to play this all the way down to the first fret if possible)

Play it twice at each position. Only strike once per note group when on the open string. Also, let's try it on some other strings.
Here is a backing to play it with.
PART C - BIGGEST EVER

Let's really push our stretch a bit and use a hammer on etude type lick that loops. Let's try it on different strings.
WARNING: DO NOT PLAY TO THE POINT OF PAIN
PART D - PUSHING THE LIMIT

Let's lear a lick that is going to serve as the through line in our backing. It's got QUITE A STRETCH.
WARNING: THIS IS HARD TO PLAY! :)

Here is the backing for this part at two speeds: