Lesson Series: "0 To 60, An Introduction to Alternate Picking" - Lesson 109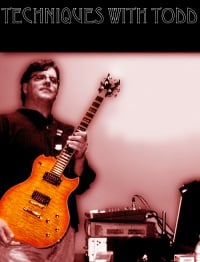 LESSON #109 - (Lesson #9 Redux) Speeeeeeed
Lesson Series by Todd Simpson

FINGER YOGA!
Let's do our usual Finger Yoga stretches. Here is a link to the video for references.

HERE IS THE CUSTOM OVERLOUD TH1 TRIODE PATCH FOR TODAY
SPEED, SPEED and MORE SPEED, But Start Slow!
As you may have heard, the BIG SECRET to playing fast is PLAYING SLOW. Teaching the brain to perform any task simply requires repetition or as we call it, "Practice!". So let's start slow and keep good form. (I sound like a broken record saying this for the billionth time, I know. But it's these simple truths that really get in the way of players becoming great. We are going to switch gears and start these shapes with an UPSTROKE as a way to help your hand and brain break through your speed barrier!
BUILDING SPEED
Try this one starting with an UPSTROKE (YES, AND UPSTROKE) and alternate pick and palm mute it. Let's move it around and double t as well. It's a very simple shape so we should be able to pick up speed

By starting with an up, this pattern gets a bit easier to play and you may be able to break your previous speed barrier.
WORKING THE WEAKER FINGER GROUPINGS
Same idea but now let's pair two fingers that often don't work as well together. Again start with an UPSTROKE. Let's move it around and double it as well.
ADDING THE STREEEEETTTCCCHHH
It would not be complete without a stretch! Again start with an UPSTROKE. Let's move it around and double t as well.
TRICKS OF THE TRADE: Combining "Economic" picking and Up Stroke Initiation
Let's try this. Here is the simplest shape I'll ever give you. It's all about the picking. Just three notes. Start with an upstroke, then two down strokes and loop it. This is the basis for playing some rythm parts that seem crazy fast.
FINAL MISSION
Here is the full rythm part and copy of the backing played with drums/bass. Working up your "Up Stroke" and traverse should benefit us now as we play this.