Lesson Series: "0 To 60, An Introduction to Alternate Picking" - Lesson 116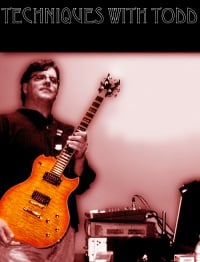 LESSON #116 - (Lesson #16 Redux) Complex triad based shapes and economic picking while traversing strings
Lesson Series by Todd Simpson

FINGER YOGA!
Let's do our usual Finger Yoga stretches. Here is a link to the video for references.
You can download AMPLITUDE FREE here (for free with enough gear in it for this preset)

!!!!!!!!!!HOW TO INSTALL AMPLITUDE PRESETS ON PC!!!!!!!!!!
Pretty crucial

1.)Download the patch/preset and unzip it if needed.
2.)Copy the patch/preset in to
Documents\IK Multimedia\AmpliTube 3\Presets\
3.)Close and restart Amplitude or the host daw.
4.)That should work

I"m on a Mac so I"m going on what I found on the web. If anyone has issues hit me up! (PM on the boards)

BONUS OVERLOUD TH1 LEAD PRESET

WARMING UP TO THE NEW SHAPE
This should be familiar. Just a bit different shape.

-Use Two Down Strokes for the first two notes.
-Hammer on and pull off with the pinky for the next two.

-Let's march this up the neck.

IT'S COMPLICATED
Last lesson we worked on TRIADS and TRIPEGGIOS a bit. This time, we are going to play some patterns that are a bit more complex. Let's dig in.

-Notice there are TWO SETS OF ECONOMIC PICKING STROKES
-Two down strokes, then later, two up strokes. (Try to keep this strict, it will help you loop this pattern)
-Let's march this up the neck.
IT'S MORE COMPLICATED
Let's turn up the wick. Try to use two down strokes to start, but after that follow your own instincts and see if the outcome feels comfortable. Hopefully by now, your developing a "Sense of Picking".

-Let's march this up the neck.

IT'S REALLY COMPLICATED
Let's make it a bit more interesting.

-Let's move it down the neck.

COMPLEXITY IS FUN
It will start sounding a bit like an etude now. Here we go.

-And march it around.

NOW IT SEEMS SIMPLE!
By now our hardest bit will seem easy!

And let's play each bit twice, which will make it easier to loop.

BONUS ROUND!
For BONUS POINTS/HOMEWORK POINTS, Double Pick (Strike Twice Per Note) 116E. You RAWK

Todd