Lesson Series: "0 To 60, An Introduction to Alternate Picking" - Lesson 118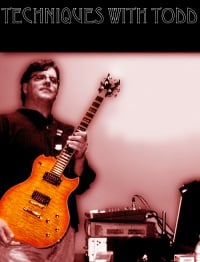 LESSON #118 - (Lesson #18 Redux) Actually playing a solo/lead
Lesson Series by Todd Simpson

FINGER YOGA!
Let's do our usual Finger Yoga stretches. Here is a link to the video for references.
OVERLOUD TH1/TH2 Patch Collection
Today's patch has 3 patches in one. Enjoy

Here are a couple of examples and the patch.

Here is an OVERLOUD TH-1 Patch I"ve been working on (lower gain, phaser, delay) Here is a sample on soundcloud.com
Better tone won't make you a better player, but it will make your tone sound better

Sound samples:
Phasey Lead
Chorus Lead
SOLO TIME!
Let's take some time to try to apply some of our recent work in to actually playing a solo. Let's make some licks that combine recent bits of work and actual solo licks. Let's work through these and then play them with our backing.

And here is our backing! Download and RIP IT UP!