Lesson Series: "0 To 60, An Introduction to Alternate Picking" - Lesson 119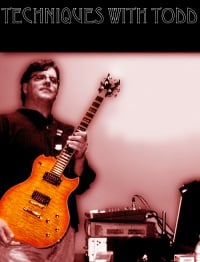 LESSON #119 - Tapped to death
Lesson Series by Todd Simpson

FINGER YOGA!
Let's do our usual Finger Yoga stretches. Here is a link to the video for references.

This weeks OVERLOUD patch is a much simpler version of our usual GAIN DEATH!

TAPPING OUR BRAINS OUT
Let's revisit our TAPING/HAMMERING work a bit. Not to be boring, we are going to skip standard tapping and and use FOUR FINGER TAPPING TECHNIQUE as our first bit.

Now then, onward! Let's do a bit of a Baroque piece using four finger tapping!

Now let's play all three of these bits together and speed it up a bit and DOUBLE TAP!!!! With our first finger.