Lesson Series: "0 To 60, An Introduction to Alternate Picking" - Lesson 120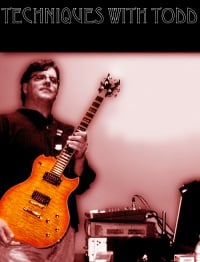 LESSON #120 - Olympic Pentatonic "Tonic" of Death
Lesson Series by Todd Simpson

FINGER YOGA!
Let's do our usual Finger Yoga stretches. Here is a link to the video for references.

After chasing off most everyone last week with our insanity, I thought I'd impart a bit more spiff and a bit less HELL in to this lesson. These are licks that will help you gain precision/speed/agility, and they leverage the work you've done on your left hand. We don't have to pick each and every note here and we don't have to do an 8 fret stretch. So we are still gonna work it, but hopefully in a way that everyone can dig.

FIRST UP!
STRIKE ONCE HAMMER MANY
For this shape, strike only the OPEN STRING and hammer on the rest. Lets work up some speed here. YES THOSE ARE SIXTEENTH NOTES!!!!!!!!

STRIKE ONCE HAMMER VERY MANY
One of my fav "Shredder Tricks" is to use repeated notes to give a nice busy feel to a given lick. Don't over use this. But give it a shot in this modification of our first lick (Still strike only the open string). Again, YES THOSE ARE SIXTEENTH NOTES! smile.gif YOU CAN DO IT SOLDIER!

STRIKE ONCE HAMMER MANY THEN GO BACK AND FORTH
Another "Shredder Trick" is our "Back and Forth" technique where we back track in a given scale then move forward again. Let's apply that to our bit that we've been working with.

Now for the bit that's actually a Scale. A PENTATONIC to be exact. More of our open bits, strike only on the open string. Now try to see how we can add the other bits we've learned to this pattern?