Lesson Series: "0 To 60, An Introduction to Alternate Picking" - Lesson 123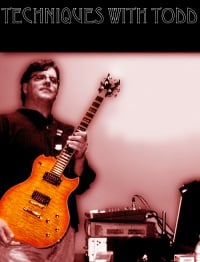 LESSON #123 - Extending scales with slides
Lesson Series by Todd Simpson

FINGER YOGA!
Let's do our usual Finger Yoga stretches. Here is a link to the video for references.

SLIDING WITH THE PINKY!!
Let's combine scale shapes with slides. Here is our first shape. Notice the SLIDE MARKER on the tablature.

Let's
-Work up some speed
-Double Pick it
-Try one pick strike per three note group
-Move it around the neck.
GOING FURTHER
Let's try something a bit more ambitious.

Let's
-Work up some speed
-Double Pick it
-Try one pick strike per three note group