Lesson Series: "0 To 60, An Introduction to Alternate Picking" - Lesson 124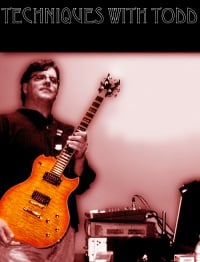 LESSON #124 - Left hand blitz (Power and precision intensive)
Lesson Series by Todd Simpson

FINGER YOGA!
Let's do our usual Finger Yoga stretches. Here is a link to the video for references.

DON'T WORRY ABOUT PICKING EVERY NOTE (This is about the left hand remember?)

THE LEFT HAND BLITZ
The left hand is the foundation of your playing. The right hand, while important, can't make up for a lack of left hand power or precision. So let's challenge our left hand and FEEL THE BLITZ!

PRE BLITZ
Let's start with something that won't chase everyone off. We will work up from there.

REVERSE GEARS

COMBO TIME!
Let's combine both in to one shape.

STRETCH!!!!!
Let's add our STREEEEETTTCCCHHH!!

BLITZING A SCALE!!
Let's try this approach in the SHRED fingering of A Minor (Three Notes Per String)

AND REVERSE GEARS!
Let's take this backwards as well.

BONUS BLITZ!!!!!
Let's use our "INVERSION" work here and try to march this up the neck.