Lesson Series: "0 To 60, An Introduction to Alternate Picking" - Lesson 125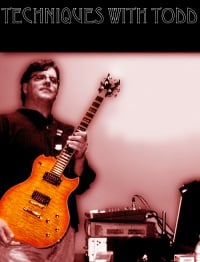 LESSON #125 - Combining economic and alternate picking
Lesson Series by Todd Simpson

FINGER YOGA!
Let's do our usual Finger Yoga stretches. Here is a link to the video for references.

GUITAR RIG 4 PATCH FOR TODAY
(In honor of our very own Ben Higgins I've analysed and deconstructed his killer lead tone using minimal distortion/gain to yield maximum note clarity)
WARMUP HOMEWORK!
Let's warm up with our BONUS from last lesson that we didn't get to!

ECONOMIC ASCENT
People often ask how I manage to get decent speed during scale runs. The trick for me is using Economic Picking to ascend, and alternate to descend. Let's ascend.
And of course......

Once we work up some speed and move around. Let's work on our endurance.

Try to use this in your own playing to see if it can push you over the speed barrier!
Todd