Lesson Series: "0 To 60, An Introduction to Alternate Picking" - Lesson 126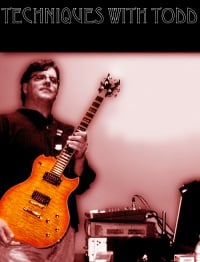 LESSON #126 - Asymmetrical patterns on symmetrical shapes
Lesson Series by Todd Simpson

FINGER YOGA!
Let's do our usual Finger Yoga stretches. Here is a link to the video for references.

GUITAR RIG 4 PATCH FOR TODAY In honor of my new Dean ML, this patch has a Dime vibe.

FIRST UP!
Let's start with something semi familiar. Building on our previous work. Let's use a picking pattern we already know with a new shape.

NEXT UP, DOUBLE YOUR FUN!
Simple things get harder when you add the DOUBLE PICKING technique :)

AND NOW, STREEETTCCHH!!!

PREPARE YOURSELVES! STRETCH AND DOUBLE FUN

SOMETHING MUSICAL, PREPPING FOR THE FUTURE
Now let's play something that's actually musical instead of just a finger workout. You should be well warmed up by now :)

AND OF COURSE DOUBLE!!!