Lesson Series: "0 To 60, An Introduction to Alternate Picking" - Lesson 128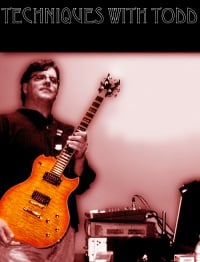 LESSON #128 - (Lesson 28 Redux) SShred in context, Working With Scales
Lesson Series by Todd Simpson

FINGER YOGA!
Let's do our usual Finger Yoga stretches. Here is a link to the video for references.

Todays Tone Patch (Overloud TH1/TH2)
(Here is how it sounds) - Zip File

LONGER BACKING TRACK
Here it is with a key change and longer lead in.

PICK ANGLE DEMONSTRATION: (The Angle of Attack of your pick is critical.)

SHREDDING IN CONTEXT (Not just for it's own sake)
An accusation commonly aimed at "Shredders" is that they make pointless use of SPEED. In some cases this is quite true. So lets look at using the techniques we've learned in the context of an actual solo using an actual scale. In this case C# and B Minor (Shred Fingering of course)

DOUBLE TROUBLE
Yet another chance to work on your DOUBLE PICKING


NON LINEAR SCALES E.G. ARPEGGIOS
Let's apply our picking to "Broken Scale" Don't sweep this, Alternate Pick it


DOUBLE TROUBLE II
Yup. Let's DOUBLE PICK an ARPEGGIO!

Try to play todays lessons against the backing track at the top.
Practice!
Todd