Lesson Series: "0 To 60, An Introduction to Alternate Picking" - Lesson 130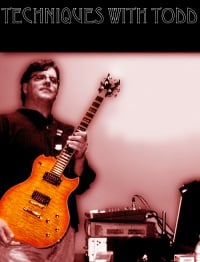 LESSON #130 - (Lesson 29 Redux) Turning practice into music II
Lesson Series by Todd Simpson

FINGER YOGA!
Let's do our usual Finger Yoga stretches. Here is a link to the video for references.

TODAYS TONE PATCH (OVERLOUD TH2 - New Brunetti Amp!) - Soundcloud
Let's continue to turn our hand work in to real licks that we can use later in solos!

OF BLUES NOTES AND BENDS
You can bend it or you can just fret it. Same note, two different vibes. Let's fret first, then bend later. So let's build our pattern over time.

Now let's put a bend in, instead of fretting the note.