Lesson Series: "0 To 60, An Introduction to Alternate Picking" - Lesson 136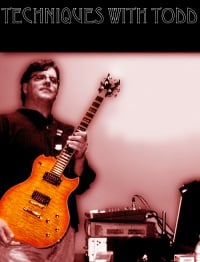 LESSON #136 - (Lesson 36 Redux) IONIAN MODE (Major Scale) VS EXTREME/BLACKENED Metal Chromatic/NonScales
Lesson Series by Todd Simpson

FINGER YOGA!
Let's do our usual Finger Yoga stretches. Here is a link to the video for references.

OVERLOUD TH1/TH2 PRESET! - This is the preset bank I created for working on Ben's Extreme/Blackened Metal Collab so it's got a bit of a raw quality for rhythm and fxy for lead.

THE LIGHT AND THE DARKNESS

Let's explore the difference between Major/Ionian sounds and some Non-Scales/Techniques employed in some of the more extreme forms of Metal.

MAJOR MOTION
The Major scale has a sort of "Happy" sound to it. Making it the exact opposite of the bits I"m using in the solo on Bens Metal Collab. But before we explore thee darker side, let's get happy and play some Major!!!!

DARK CLOUDS IN A FROZEN HELL OF NORTHERN DARKNESS
Now let's go the other direction and look at a couple of licks from the collab solo. to be clear these are not really scales. They are more like a physical attack on the guitar itself with little regard for musical tonality, melody, harmony, structure, etc. In short, "Blackened", or taking influence from one of the more extreme forms of Metal, which is it's most primitive form rejects Harmony/Melody/Scales as a general principle in many cases.