Lesson Series: "0 To 60, An Introduction to Alternate Picking" - Lesson 137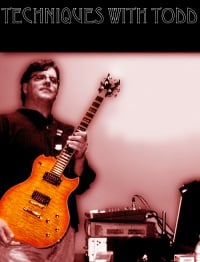 LESSON #137 - (Lesson 37 Redux) IONIAN MODE (Major Scale) advanced & Iron Maiden Licks/Chops
Lesson Series by Todd Simpson

FINGER YOGA!
Let's do our usual Finger Yoga stretches. Here is a link to the video for references.
OVERLOUD TH1/TH2 PRESET!
Two presets in this bank. First is rythm second is delay/lead.

IONIAN AND THE PINKY!
Before we get to the IRON MAIDEN, let's wrap up our work in the MAJOR SCALE. Let's intentionally play the major scale in a way that's harder than it could be. It's good for your pinky!

Now Let's make it interesting.

MAIDEN ENGLAND AND ELSEHWERE
On to the CRAZY!! Gab's new spiff collab is wads of fun to solo over and is a great platform for learning some killer rock licks. Like these