Lesson Series: "0 To 60, An Introduction to Alternate Picking" - Lesson 141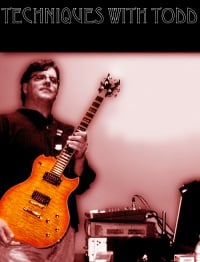 LESSON #141 - (Lesson 41 Redux) Open string pentatonic shapes & playing off key on purpose
Lesson Series by Todd Simpson
FINGER YOGA!
Let's do our usual Finger Yoga stretches. Here is a link to the video for references.

THIS WEEK'S OVERLOUD TH1/TH2 PATCH
So BIG PROPS TO BEN!!!! This weeks Lick, Patch, and backing are from BENS TERMINATOR COLLAB!

OPEN STRINGS AND CRAZY THINGS
Let's do a very odd sounding lick. This is based on a Pentatonic Scale, but using open strings which are OUT OF KEY!! Playing out of key can create an odd "tension" to a given lick. This will sound very odd by itself, but notice how it changes when we play it with our BEN BACKING.