Lesson Series: "0 To 60, An Introduction to Alternate Picking" - Lesson 145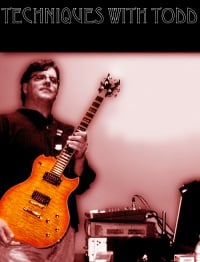 LESSON #145 - (Lesson 45 Redux) Hammer on licks Vs alternate picking licks in a solo
Lesson Series by Todd Simpson
FINGER YOGA!
Let's do our usual Finger Yoga stretches. Here is a link to the video for references.
SOLO WORK!!!!
-We are going to use Gabe's Brilliant backing for BRIT METAL COLLAB II as our backing track for today's lesson. Here is the track with and without some of our solo bits.
REAPER PROJECT WITH THIS SONG/SOLO
-Here is the source Reaper Project for this song and solo. Go download reaper (free) if you haven't!

HAMMER ON TECHNIQUE IN A SOLO
-Let's use a Hammer On lick with open strings based on the Pentatonic Scale.
ALTERNATE PICKING TECHNIQUE IN A SOLO

COMBINING HAMMER ONs & ALTERNATE PICKING IN A SOLO