Lesson Series: "0 To 60, An Introduction to Alternate Picking" - Lesson 150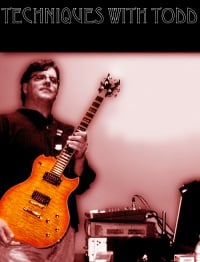 LESSON #150 - (Lesson 50 Redux) With and without the thumb and pick
Lesson Series by Todd Simpson

FINGER YOGA!
Let's do our usual Finger Yoga stretches. Here is a link to the video for references.

Here is today's OVERLOUD TH1/TH2 Patch that I'm using during the lesson.

PLAYING THE IMPOSSIBLE
Somethings seem nearly impossible at first. But they aren't. Let's play these with and without a pick, and with and without the left thumb. These are designed to work your left hand strength.
PLAYING WITHOUT THE THUMB
One way to force the left had to adapt is to remove the left thumb from the neck and play "THUMBLESS". Let's try this solo lick without the thumb.