Lesson Series: "0 To 60, An Introduction to Alternate Picking" - Lesson 154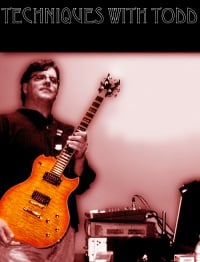 LESSON #154 - (Lesson 54 Redux) Advanced harmonic minor in context
Lesson Series by Todd Simpson

FINGER YOGA!
Let's do our usual Finger Yoga stretches. Here is a link to the video for references.

Here is Today's OVERLOUD TH1/TH2 Patch that I'm using during the lesson.
DON'T FORGET TO TURN DOWN/OFF THE NOISE GATES IF IT'S KILLING YOUR SUSTAIN!!!

CONTEXT: MANOWAR COLLAB
Here is my take on the MANOWAR collab.
Here is the MP3 BACKING TRACK

MINOR VS HARMONIC MINOR

Let's compare the Minor and Harmonic Minor in a Solo Context.
First, Here is D Minor Mapped out over the neck. Pay attention to the 3rd through 7th Frets

Let's warm up a bit learning a lick from the solo.
-Bit of a stretch in this one


NEW FINGERINGS
Let's play an A Minor Inversion in the solo but use a spot on the neck we've not tried before. The notes are the same, just the shape is different.
DESCENDING

ASCENDING

HARMONIC MINOR DESCENDING

HARMONIC MINOR ASCENDING

NEW FINGERINGS AND THREES

We often use "Threes" (Moving three tones in a scale and back one) during scale runs. Let's try it on this shape.