Lesson Series: "0 To 60, An Introduction to Alternate Picking" - Lesson 158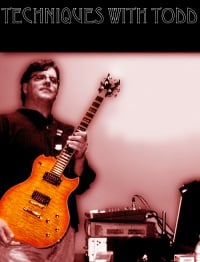 LESSON #158 - (Lesson 58 Redux) Shredding in context part III (E.G. Jumping the rails of the "Crazy Train")
Lesson Series by Todd Simpson

FINGER YOGA!
Let's do our usual Finger Yoga stretches. Here is a link to the video for references.

Here is Today's OVERLOUD TH1/TH2 Patch that I'm using during the lesson.

GUITAR RIG PRESET (4 and 5 Compatible)
158 BACKING TRACK
158 REAPER PROJECT

RHYTHM PARTS AND BLENDING ALTERNATE WITH ECONOMIC PICKING
Our backing track will serve as a study in picking smile.gif Let's warm up a bit.
PIRATE COLLAB SOLOING

Pirate Collab Backing Track - Collab Link
Let's try a lick from the PIRATE COLLAB and play as if a shark bit off our right hand. So left hand only on this. Meaning you'll need to hammer on and pull off each note.