Lesson Series: "0 To 60, An Introduction to Alternate Picking" - Lesson 160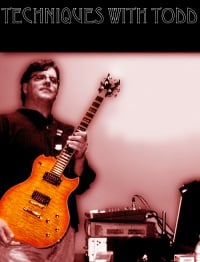 LESSON #160 - (Lesson 60 Redux) Shredding with one hand
Lesson Series by Todd Simpson

FINGER YOGA!
Let's do our usual Finger Yoga stretches. Here is a link to the video for references.
Here is Today's OVERLOUD TH2 Patch that I'm using during the lesson.
NOTE: This patch is TH2 only, not TH1 Compatible.
-Contains four Gain and one Clean Patch!
LOVE the RANDALL T2 Head Emulation!!!!

THE LEFT HAND PATH
FINGER TAPPING WORKOUT
-Let's do our one handed finger tapping workout for warmup. Just bring your first two fingers to touch your thumb. Do it hard, it should make a snap/pop sound.
HAMMER ON PULL OFF
Let's use our HAMMER ON / PULL OFF technique for a lick that will work with our backing. Hopefully all of these licks will be familiar and or simple enough to focus on the hammer/pull, not the lick.
ONE HANDED SHREDDING!!!
Here is the backing track