Lesson Series: "0 To 60, An Introduction to Alternate Picking" - Lesson 161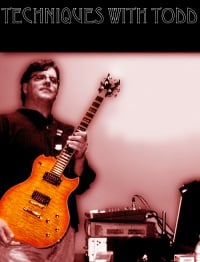 LESSON #161 - (Lesson 61 Redux) Inside/outside picking Vs pick and hammer
Lesson Series by Todd Simpson

FINGER YOGA!
Let's do our usual Finger Yoga stretches. Here is a link to the video for references.
Here is Today's OVERLOUD TH2 Patch that I'm using during the lesson - NOTE: This patch is TH2 only, not TH1 Compatible.
PATCH TH2 161 "LYNCH BOX!"
Based on the RANDALL Lynch Box Head and Pre-Amp.

BACKING TRACK FOR TODAY'S LICKS

PICK AND HAMMER VS INSIDE
Let's start with "Pick and Hammer" Pick once per string and then hammer on the rest.
For Each of These Let's
-March it up the neck
-Try it as Double, Triple, Quad Pick.
-Play each lick with the backing.