Lesson Series: "0 To 60, An Introduction to Alternate Picking" - Lesson 162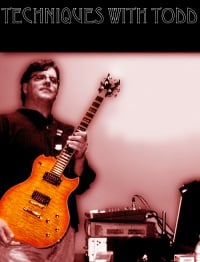 LESSON #162 - (Lesson 62 Redux) Death by quad picking
Lesson Series by Todd Simpson

FINGER YOGA!
Let's do our usual Finger Yoga stretches. Here is a link to the video for references.
Today's Guitar Patch is for GUITAR RIG 4 & 5
Here is a screen grab of the rack emulation behind the tone.

SPECIAL NOTE ON GUITAR RIG/AMPLITUDE etc.
-It's natural to get frustrated when you can't get your plugins to sound right
-It's natural to want to give up when it seems impossible.
-Forget what's natural and push ahead as you would with your guitar playing. If you quit when you first realized how hard it would be, you wouldn't have made it this far

QUAD PICKING ARPEGGIOS
Here is today's backing track with and without the bit we are learning.
Lesson162_BackingOnly.mp3 ( 1.3MB )
Lesson162_with_lead.mp3 ( 1.3MB )

Here is our first shape. Let's try to QUAD PICK this.