Lesson Series: "0 To 60, An Introduction to Alternate Picking" - Lesson 163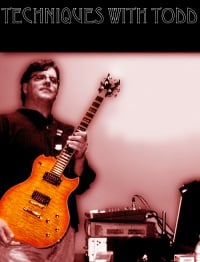 LESSON #163 - (Lesson 63 Redux) Economic picking precision
Lesson Series by Todd Simpson

FINGER YOGA!
Let's do our usual Finger Yoga stretches. Here is a link to the video for references.

IT'S THE ECONOMY SILLY!!!
Not that economy, economy of motion!! Motion in picking or ECONOMIC PICKING!!!
-E.G. We are going to use two down strokes in a row when going from lower to higher strings. This can greatly increase your precision in running scales and thus your speed.

-Let's also DOUBLE PICK these and you'll see how it turns it from Economic to more of and "Inside Picking" workout.