Lesson Series: "0 To 60, An Introduction to Alternate Picking" - Lesson 164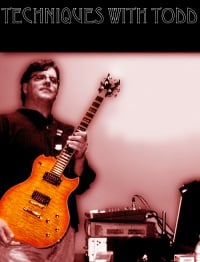 LESSON #164 - (Lesson 64 Redux) To fret or not to fret, that is the question
Lesson Series by Todd Simpson

FINGER YOGA!
Let's do our usual Finger Yoga stretches. Here is a link to the video for references.
HERE IS OUR BACKING FOR TODAY!!! By Ben Higgins
HIDDEN SECRETS OF KILLER TONE IN OVERLOUD TH2
The killer semi hidden bits in TH2 are a bit part of dialing in killer tone. These settings are missed by folks new to the software resulting in frustration and bad tone

Double click on the speaker cabinet to reveal the hidden menus and options.
FRETTED OR OPEN?
Let's work on some licks that leverage accurate picking with and without using open strings.
To begin with, let's work on some open string licks.
-PALM MUTE EVERYTHING!!!!
-STRICT Alternate Picking
-Try on different strings.
ON TO FRETTED WORK!!!