Lesson Series: "0 To 60, An Introduction to Alternate Picking" - Lesson 165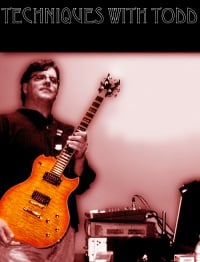 LESSON #165 - (Lesson 65 Redux) Breaking the speed barrier with inside alternate picking
Lesson Series by Todd Simpson

FINGER YOGA!
Let's do our usual Finger Yoga stretches. Here is a link to the video for references.
-Here is our OVERLOUD TH2 PATCH for today.
-Here is our GUITAR RIG patch for today.
-BACKING TRACK FOR TODAY
INSIDE PICKING AND BREAKING THROUGH THE BARRIER
We very rarely lead off with an upstroke. Today we are going to break with tradition and start off with some shapes the benefit by initiating with an upstroke. This sets up the hand to have a smoothly flowing picking pattern that can increase precision and therefore speed.