Lesson Series: "0 To 60, An Introduction to Alternate Picking" - Lesson 166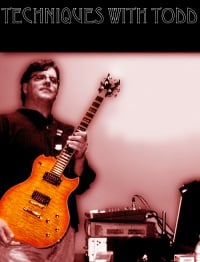 LESSON #166 - (Lesson 66 Redux) Neo-classical shapes with double and quad picking
Lesson Series by Todd Simpson

FINGER YOGA!
Let's do our usual Finger Yoga stretches. Here is a link to the video for references.

Here is our OVERLOUD TH2 PATCH for today.
HERE IS TODAY'S BACKING TRACK (Taken from Lesson 165)

PUTTING IT ALL TOGETHER AND MULTI PICKING
These shapes should be familiar so we can focus on our picking! Let's:
-Double Pick these
-QUAD Pick these
-Let your hand guide you on econ or alternate picking.

Attached File(s)

GMC166_Doxologia_Minor.mp3 ( 1.32MB )
166_REAPER_PROJECT.zip ( 8.78MB )