Lesson Series: "0 To 60, An Introduction to Alternate Picking" - Lesson 168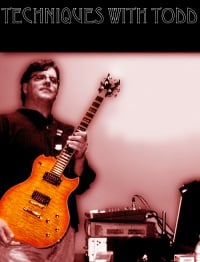 LESSON #168 - (Lesson 68 Redux) 2 solo or not 2 solo (HINT: The Answer is YES SOLO)
Lesson Series by Todd Simpson

FINGER YOGA!
Let's do our usual Finger Yoga stretches. Here is a link to the video for references.
HERE IS THE LINK TO THIS VID SESSION ON USTREAM

HERE IS TODAY'S GUITAR RIG 4&5 PATCH
Tampa Death Tone
PREPPING TO SHRED
-Play this bit striking ONLY ONCE on the open string then hammer on the rest and mute bits of it.
-For giggles trying alternate picking every note.

Now let's take this same approach in a solo lick.