Lesson Series: "0 To 60, An Introduction to Alternate Picking" - Lesson 169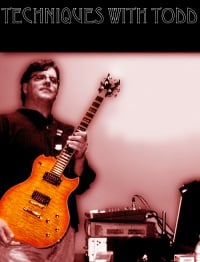 LESSON #169 - (Lesson 69 Redux) 2 solo or not 2 solo part II (HINT: The Answer is YES SOLO)
Lesson Series by Todd Simpson

FINGER YOGA!
Let's do our usual Finger Yoga stretches. Here is a link to the video for references.

HERE IS TODAY'S GUITAR RIG 4&5 PATCH

Tampa Death Tone Part II
HERE IS TODAY'S OVERLOUD TH2 PATCH
TODAY'S BACKING
PUTTING IT ALL TOGETHER
In this lesson we are going to continue our work from LESSON 168 and combine a variety of techniques to build some solo licks. Mainly
-Open String Licks with hammer on
-Open string Licks with Alternate Picking
-Open string Four Finger/Note Tapping/Hammering
These licks work as hand drills and as solo licks which is my fav kind of lick smile.gif
OPEN STRING LICKS WITH THREE NOTE GROUPS
Let's
-Strike Once then hammer on the following two notes
-Try to alternate pick all of it
-Try it on different strings
-Double/Quad Pick it
-TRY IT IN A SOLO!!!!

DIRECT LINK TO RECORDED VIDEO STREAM OF THIS LESSON ON USTREAM.TV