Lesson Series: "0 To 60, An Introduction to Alternate Picking" - Lesson 173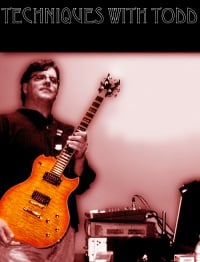 LESSON #173 - (Lesson 73 Redux) Pinky power continued
Lesson Series by Todd Simpson

FINGER YOGA!
Let's do our usual Finger Yoga stretches. Here is a link to the video for references.

HERE IS TODAY'S OVERLOUD TH2 PATCH
HERE IS TODAY'S BACKING TRACK

POWER TO THE PINKY!!!!
Let's continue our work on the Pinky Finger. It's the key to playing the impossible. For these drills don't forget
1.)SIT IN PROPER CLASSICAL POSITION IF AT ALL POSSIBLE smile.gif (Guitar Between the legs instead of "Side Sadle" on your right leg)
2.)ELEVATE YOUR LEFT LEG BY PUTTING SOMETHING UNDER YOUR LEFT FOOT (a stack of books about 8 inches high)
3.)USE A SHARP PICK!!! Sharpen one if needed.
4.)PLANT YOUR RIGHT HAND ON THE BRIDGE FOR A FULL, ALL STRING, MUTE.
ADDING STRING TRAVERSE
Let's expand on our last session by adding string traverse to our pinky work.
Let's
-Strike Once Hammer on the next two notes per string.
-Try picking every note
-Double Pick it (Pick every note twice)
-Quad Pick it (Pick every note four times)

B MINOR SCALE (Three Notes Per String Version)
-For Reference, here is the B Minor Scale. Use this to create connecting licks between Examples D, E, and F.

EVERYBODY RAWKED IN THIS CHAT SESSION!!!!!!!!!!!!!!