Lesson Series: "0 To 60, An Introduction to Alternate Picking" - Lesson 176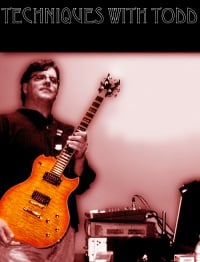 LESSON #176 - (Lesson 76 Redux) Ninja secrets of speed/precision
Lesson Series by Todd Simpson

FINGER YOGA!
Let's do our usual Finger Yoga stretches. Here is a link to the video for references.

HERE IS TODAY'S BACKING TRACK
HERE IS OUR GUITAR RIG PRESET FOR TODAY
HERE IS OUR OVERLOUD TH2 PATCH FOR TODAY

-Added a Spring Reverb and using the 5150 Cab IR.

WORKING HIGHER
Let's move up on the fret board a bit. Let's work near and beyond the 12th fret. We spend a lot of time on the lower frets and it's time we balanced that out. It's OK to allow your hand position to shift to "Rock Position" with the left thumb rising above the middle position on the neck. Also, feel free to use your pinky or not. Whatever feels better for your hand. Try to do these with and without the pinky so you get good at both.
FOR ALL THESE, LET'S
-Strike once, Hammer Many
-Single/Double/Quad Pick
-Palm Mute
ADDING A STREEEEEEEEEETTTCCCHHHHHHH