Lesson Series: "0 To 60, An Introduction to Alternate Picking" - Lesson 178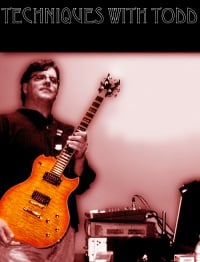 LESSON #178 - (Lesson 78 Redux) Blues and shredding
Lesson Series by Todd Simpson
FINGER YOGA!
Let's do our usual Finger Yoga stretches. Here is a link to the video for references.
-Here is our OVERLOUD TH2 PATCH for today.
-Bonus Patch
-TODAY'S BACKING TRACK
SHREDDING THE BLUES?
As Paul Gilbert can tell you, Yes, the Blues can Shred!!!! smile.gif Let's get started on a pentatonic shape.
-Strike Once, Hammer Many (Strike only the open string, hammer on the rest)
-Also, try Alternate Picking every note
-Double and Quad Alternate Picking Every Note.

Let's start with something simple and familiar to get loosened up.