Lesson Series: "0 To 60, An Introduction to Alternate Picking" - Lesson 179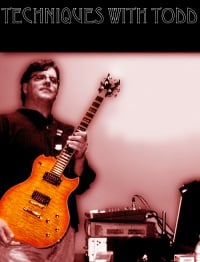 LESSON #179 - (Lesson 79 Redux) No thumb, no problem
Lesson Series by Todd Simpson
FINGER YOGA!
Let's do our usual Finger Yoga stretches. Here is a link to the video for references.
HERE IS OUR BACKING TRACK FOR TODAY
HERE IS TODAY'S OVERLOUD TH2 PATCH

THUMBLESS!!!!!
Let's dive back in to our "Thumbless" work. Here is an example of playing "Thumbless" and "Pickless" as a bonus. Using only the fingertips and the right hand for muting. With a bit of practice, this type of thing is quite simple.

LET'S
-Try these without the left thumb on the neck.
-Try them, Sing, and Multi Pick.