Lesson Series: "0 To 60, An Introduction to Alternate Picking" - Lesson 180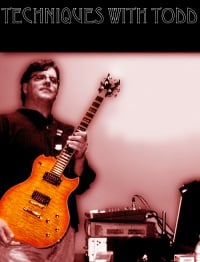 LESSON #180 - (Lesson 80 Redux) Single string vs traverse
Lesson Series by Todd Simpson
FINGER YOGA!
Let's do our usual Finger Yoga stretches. Here is a link to the video for references.

HERE IS OUR GUITAR RIG 4/5 PRESET
HERE IS OUR OVERLOUD TH2 PRESET (Abby Road Impulse used on Cab 1)
HERE IS OUT BACKING FOR TODAY

EASY BITS FIRST
Let's focus on SINGLE STRING straight line speed first.
LET'S
-Try this on different strings
-Single and Multi Pick
-Palm Mute
-Make sure to alternate pick strikes on single string licks

CORNERING SPEEED!!!
Let's work on our Cornering Speed.
LET'S
-Try this lower on the neck.
-March it up
-Multi Pick