Lesson Series: "0 To 60, An Introduction to Alternate Picking" - Lesson 181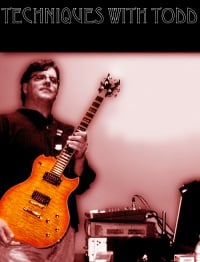 LESSON #181 - (Lesson 81 Redux) Picking & rhythm and leads
Lesson Series by Todd Simpson
FINGER YOGA!
Let's do our usual Finger Yoga stretches. Here is a link to the video for references.
HERE IS OUR BACKING TRACK FOR TODAY
Here is our REWIND Backing (Homework)
HERE IS TODAY'S OVERLOUD TH2 PATCH
GUITAR RIG 4/5
ALTERNATE PICKING OUTSIDE OF SOLOING
Let's get our fingers going by picking something familiar, A TRIPEGIO!!!!!!
LET'S
-Alternate and or Economic Picking (Dealers Choice)
-March This up and down the neck
-Try on a few different strings.

ALTERNATE PICKING RYTHM
Let's continue a shape we worked on as a lead bit and use it as a rythm guitar/backing bit. The shape will be familiar so we can focus on picking.