Lesson Series: "0 To 60, An Introduction to Alternate Picking" - Lesson 182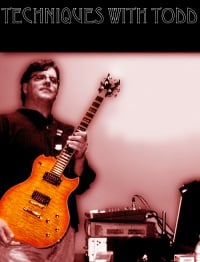 LESSON #182 - (Lesson 82 Redux) Alternate picking traverse inversions
Lesson Series by Todd Simpson
FINGER YOGA!
Let's do our usual Finger Yoga stretches. Here is a link to the video for references.
HERE IS OUR GUITAR RIG 4/5 PRESET
HERE IS OUR OVERLOUD TH2 PRESET (Panterah"ish" with 5150 Impulse on Cab 1)
HERE IS OUR BACKING FOR TODAY
INVERSIONS AND PICKING TRAVERS STRINGS
Let's invert one of our typical patterns and build up some muscle memory and toughen our pinky!!
Let's
-Multipick and March it up the neck.

INVERSION ON TWO STRINGS
Let's take our MINOR INVERSION pattern and work it on two strings.

FAMILIAR FULL SCALE INVERSIONS AND NEW FULL SCALE INVERSIONS IN SOLO CONTEXT