Lesson Series: "0 To 60, An Introduction to Alternate Picking" - Lesson 184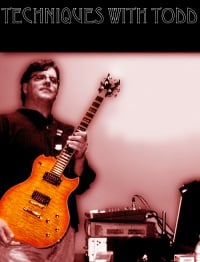 LESSON #184 - (Lesson 84 Redux) Penta pinky patterns
Lesson Series by Todd Simpson
FINGER YOGA!
Let's do our usual Finger Yoga stretches. Here is a link to the video for references.

HERE IS OUR GUITAR RIG 4/5 PRESET
HERE IS OUR OVERLOUD TH2 PRESET - AUTO WAH LEAD
HERE IS OUR BACKING FOR TODAY (From GMC Instructor Gabriel Leopardi)
PREPPING FOR THE PINKYPOCOLYPSE
Mind your PINKY!!!! Try this to give reach and power to the little finger.
-Move the pinky up one fret each rotation through the pattern.
-Double/Quad Pick