Lesson Series: "0 To 60, An Introduction to Alternate Picking" - Lesson 187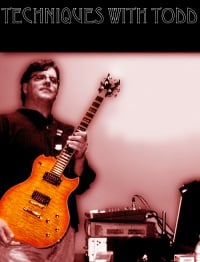 LESSON #187 - (Lesson 87 Redux) Quasi Classical
Lesson Series by Todd Simpson

FINGER YOGA!
Let's do our usual Finger Yoga stretches. Here is a link to the video for references.

HERE IS OUR OVERLOUD TH2 PATCH FOR TODAY (Requires FULL VERSION of TH2)
HERE IS OUR BACKING TRACK FOR TODAY
QUASI CLASSICAL
Sometimes, the way you play a series of notes can make a phrase "sound" semi/quasi classical/neo-classical. Let's take a familiar shape and play it in a different way to explore this.