Lesson Series: "0 To 60, An Introduction to Alternate Picking" - Lesson 189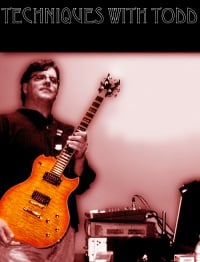 LESSON #189 - (Lesson 89 Redux) Shredding beyond the triads - soloing
Lesson Series by Todd Simpson

FINGER YOGA!
Let's do our usual Finger Yoga stretches. Here is a link to the video for references.

HERE IS OUR OVERLOUD TH2 PATCH FOR TODAY
(Requires FULL VERSION of TH2) - MARSHALL CAB WITH GREENBACK
HERE IS OUR BACKING TRACK FOR TODAY - BAROQUE Meets RASTA

HERE IS OUR REAPER PROJECT WITH THE BACKING
AND THEY'RE OFF!!
Let's take it a bit easy on our "Day of Rest" Session and star of with something simple to get going. Rest assure, the crazy is not far off.