Lesson Series: "0 To 60, An Introduction to Alternate Picking" - Lesson 190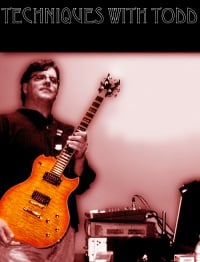 LESSON #190 - (Lesson 90 Redux) Multi picking / Stretch Licks / Tripeggios combo day
Lesson Series by Todd Simpson

FINGER YOGA!
Let's do our usual Finger Yoga stretches. Here is a link to the video for references.

HERE IS OUR OVERLOUD TH2 PRESET
HERE IS OUR BACKING FOR TODAY
HERE IS OUR REAPER PROJECT FOR TODAY

STRETCH IT!!!
Let's prep our fingers for a lick we are going to use today.
Let's:
Pick and Pull, Multipick and March it.
NEXT UP
-Adding our previous techniques to rythms and solos.