Lesson Series: "0 To 60, An Introduction to Alternate Picking" - Lesson 195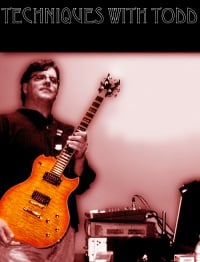 LESSON #195 - (Lesson 95 Redux) Crazy Rhythm Bits II
Lesson Series by Todd Simpson

FINGER YOGA!
Let's do our usual Finger Yoga stretches. Here is a link to the video for references.

HERE IS OUR OVERLOUD TH2 PATCH FOR TODAY (Requires FULL VERSION of TH2)
HERE IS OUR BACKING TRACK FOR TODAY
HERE IS OUR SECONDARY BACKING (Cosmin Power Metal Collab ReIssue)
CRAZY RHYTHMS / CRAZY LEADS
Let's start with a semi crazy workout you should remember to get our fingers moving on our Day of Rest

We have used our STRETCH and our MULTI PICKING to great effect on Lead Bits, but now let's try using our techniques on some Rhythm Bits.