Lesson Series: "0 To 60, An Introduction to Alternate Picking" - Lesson 196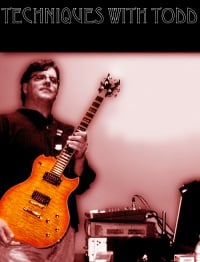 LESSON #196 - (Lesson 96 Redux) Taking advantage of your stretch in context
Lesson Series by Todd Simpson

FINGER YOGA!
Let's do our usual Finger Yoga stretches. Here is a link to the video for references.

HERE IS OUR OVERLOUD TH2 PRESET

HERE IS OUR GUITAR RIG 5 PATCH FOR TODAY

HERE IS OUR BACKING FOR TODAY - Written by BEN HIGGINS
HERE IS OUR REAPER PROJECT FOR TODAY

TONGUE TWISTERS FOR YOUR FINGERS
Some patterns are simply difficult to master. We are going to build one of these today. Let's start fairly simple.
LET'S
Multi Pick it
March it up a few frets
This will prepare your hand for the harder bits.