Lesson Series: "0 To 60, An Introduction to Alternate Picking" - Lesson 20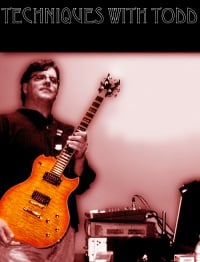 LESSON #20 - Pentatonic Finger Torture
Lesson Series by Todd Simpson

In this lesson we are going to work up our speed and alternate picking, and then in part 3, use an open string style lick to work on sounding like we are picking every note while we are in fact only picking one out of every three.





Let's add some slides in to this and practice keeping things very smooth and fluid.
The goal in PART 3 is to to keep a light palm mute, and strike the open string and then hammer on the next two notes. This allows this lick to be played smooth and brisk with minimal picking. Due to the mute, it sounds like it's all picked, even though it's only one pick strike every three notes.