Lesson Series: "0 To 60, An Introduction to Alternate Picking" - Lesson 201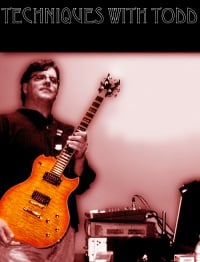 LESSON #201 - Solo Construction
Lesson Series by Todd Simpson

FINGER YOGA!
Let's do our usual Finger Yoga stretches. Here is a link to the video for references.
OVERLOUD TH2 PATCH FOR TODAY
REAPER PROJECT FOR TODAY - Gab Thrash Metal Collab

CONSTRUCTING A SOLO
Building a memorable solo is more than just stringing together some chops. At the most basic level, it's important to balance the chops with an overall melodic theme of some sort. You can return to this theme throughough the solo. The chops should play well with the backing, it's crucial to realize the solo is part of the song, not the other way around. Also, playing "In Key" is important. Otherwise it sounds like your playing to a different song.