Lesson Series: "0 To 60, An Introduction to Alternate Picking" - Lesson 203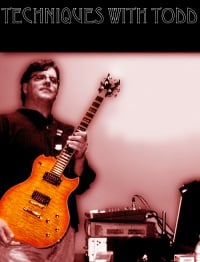 LESSON #203 - More Than One Way Part II
Lesson Series by Todd Simpson

FINGER YOGA!
Let's do our usual Finger Yoga stretches. Here is a link to the video for references.
OVERLOUD TH2 PATCH FOR TODAY
REAPER PROJECT FOR TODAY - Bus Collab by: Ben Higgins
FIRST DAY OF "BACK TO BASICS SUNDAY SESSIONS"
Our SUNDAY SESSIONS are going to focus on the BASICS OF GREAT PLAYING and hopefully allow newer students to participate and get the benefits out of the Vid Chat Sessions that the more experienced players have been enjoying for quite some time. All are welcome!!
Up first. MORE THAN ONE WAY PART II: Let's continue our work from the Saturday Session but focus lesson multipicking and speed and more on precision and vibrato.