Lesson Series: "0 To 60, An Introduction to Alternate Picking" - Lesson 208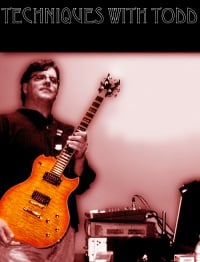 LESSON #208 - Putting our practice to purpose
Lesson Series by Todd Simpson

FINGER YOGA!
Let's do our usual Finger Yoga stretches. Here is a link to the video for references.

OVERLOUD TH2 PATCH FOR TODAY
HERE IS OUR BACKING TRACK REAPER PROJECT (TWO TRACKS WITH AND WITHOUT LEAD)
HERE IS A PREVIEW OF THE SOLO BITS/BACKING
"GIVE ME TIME" by ALEXA

IT'S A WORKOUT, IT'S A LICK, IT'S BOTH!
Let's use one of our traverse alternate picking licks and see how it fits in the song as a solo as well.

HERE IS THE LINK TO THE FULL VIDEO FROM THE CHAT IN CASED YOU MISSED IT!