Lesson Series: "0 To 60, An Introduction to Alternate Picking" - Lesson 210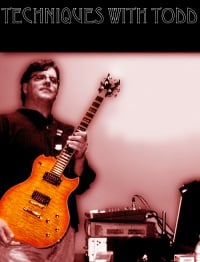 LESSON #210 - Inside Out (Inside Picking Vs Outside Picking)
Lesson Series by Todd Simpson

FINGER YOGA!
Let's do our usual Finger Yoga stretches. Here is a link to the video for references.

OVERLOUD TH1/TH2 PATCH FOR TODAY
-Designed for Djent/Downtune/Baritone/ERG

My FAVORITE cab, the SLO12000 Soldano. Killer cab!

BACKING TRACK -Six Demon Backing (This is from my band project. Divinus Mortus Track in progress)

I'm using LOGIC 9 for tracking/mixing for the DIVNUS MORTUS project. I dig reaper, but I also dig LOGIC smile.gif I'm going to do the next DM release on REAPER for comparison.

REAPER PROJECT FOR TODAY
I'm creating a REAPER project for our use here today. Feel free to download make your own recordings. The first track is set to use OVERLOUD and SCUFFHAM AMPS plugins so any of those will work or turn those off and use anything you like. Metronome on track 2 via Guitar Rig.
ALTERNATE PICKING RHYTHM BITS
We do a TON of AP work for lead stuff. Let's work on some Alternate picking/Economic Picking for rythm/riffage for a bit. Also, let's explore attacking a given lick from an Inside VS Outside picking perspective. First up, here is a riff that started life as a question from another GMCer. I actually played it somewhat different than the original and I think it makes a great workout. Here is a demo.