Lesson Series: "0 To 60, An Introduction to Alternate Picking" - Lesson 215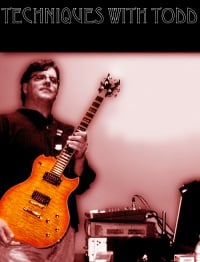 LESSON #215 - Technical Difficulties Economic Picking
Lesson Series by Todd Simpson

FINGER YOGA!
Let's do our usual Finger Yoga stretches. Here is a link to the video for references.

OVERLOUD TH1/TH2 PATCH FOR TODAY (Requires FULL VERSION of Overloud TH2)

NO!! PLEASE!!! NOT ECONOMIC!!!!!
Initiate this pattern with an UP STROKE. This is atypical for us, but will help :)

There are certain bits that really need you have a firm grasp of "Economic Picking" (Two up or Two down strokes in a row in a picking sequence). The PAUL GILBERT (Much Respect) song "TECHNICAL DIFFICICULTIES" has a bit at the open that is a great example of this.
HERE IS OUR FULL VIDEO CHAT!!!!