Lesson Series: "0 To 60, An Introduction to Alternate Picking" - Lesson 21
(Difference between revisions)
---
Current revision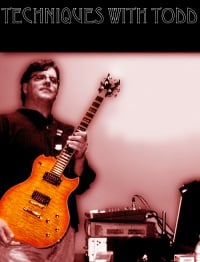 LESSON #21 - Blitzkrieg Guitar Rhythms / Lead as Rhythm
Lesson Series by Todd Simpson

In this lesson we are going to add a back and forth lick that we worked on in a previous lesson, with a Pedal Point based guitar rhythm. So we are combining two techniques from previous lesssons to create a guitar rythm of considerable complexity.Here is a video preivew of what the riff sounds like.
NO POINTS FOR SPEED IN BOOTCAMP:
Don't RUSH this. Play each note in a precise manner even if that means playing the entire thing much slower than you would normally play.

Guitar Pro 5 .gp5 Tab
Guitar Pro .gpx Tab


21_backingtrack.mp3 ( 588.49K )
21_backingwithguitar.mp3 ( 588.49K )

There's a Collab based on this lesson, more about it HERE

Lesson/Collab Tablature: