Lesson Series: "0 To 60, An Introduction to Alternate Picking" - Lesson 220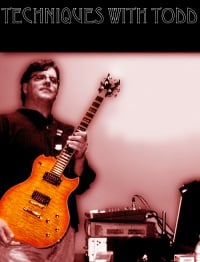 LESSON #220 - Master of the Sword Collab
Lesson Series by Todd Simpson

FINGER YOGA!
Let's do our usual Finger Yoga stretches. Here is a link to the video for references.
SCUFFHAM S-Gear PATCH FOR TODAY
Link To Download S-Gear (Mac & PC)

HERE IS THE REAPER PROJECT WITH SOLO AND BACKING
Let's break this down and use it to study some ALTERNATE PICKING work. The good new is this VERY VERY SIMPLE to play and sounds like your playing way more than it actually happening.

EXAMPLE A:
The intro lick uses a type of AP we have not worked with very much. I"m using three notes per string but stricking TWICE on the last note only. This yields FOUR PICK STRIKES per string and makes it sound much more busy than it is. This technique is one of the SECRET SAUCE techniques that I keep in my bag of tricks.